Welcome to week #6 of THE Pin It Party! We are SO excited that you have come by and can't wait to see what you will link up this week. You guys come up with the coolest stuff. If you haven't already started following THE Pin it Party's Best of the Best board on Pinterest, click here.
Note: If you haven't had a chance to add the party button to your blog's link up page or sidebar, please do it today. The more people who know about the party and join in, the more potential repins for you. Win-win, right? And now, on to the partaaaay!
As always THANK YOU to Ellie, my blogging bestie for setting this all up. When things calm down around here - I will find some way to pay her back for all the kindness she has shown me! <3 Enjoy the party!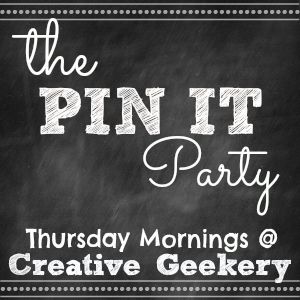 Grab the code here!
1. Follow the host and co-hosts on Pinterest.
2. Grab the party button and add it to your blog's sidebar or link up party list.
3. Post 1-3 links to your blog's most "pin-able" posts from the last few weeks.
(No links to other parties, giveaways or shops please. If you are an Etsy shop owner, come back this weekend and link up at the Weekend Blog Block Party!)
4. Mingle! Reach out to somebody new and pin their stuff. You never know when you will meet your blogging bestie!
5. After you link up, please send out a tweet about the party. The more people who come and link up, the more potential repins for you!
6. Have a FABulous day and come back next week for more Pinterest fun. XO
Come back Friday night at 10 pm EST
for the Weekend Blog Block Party!