Welcome to the 29th week of THE Pin It Party Pinterest Link Up!
Check out my FAVES from last week (ALL bloggers should - these all give great tips!!)
Are you interested in co-hosting THE Pin It Party? Did you know when you co-host you get to link up THREE of your posts before the party even starts? First dibs! It is also a WHOLE lot of fun and a great way to grow your Pinterest following. Go here to get more information and to reserve your spot now! Please take a second to update your THE Pin It Party button! You can either grab the code below (which has been fixed since last week!) or just link your current button to the new Creative Geekery site (www.creative-geekery.com). Thank you for taking the time to do this!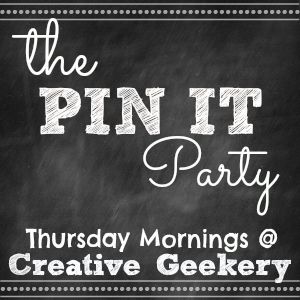 Grab the code for our button here!
Have you been "pinned" at one of our previous TWENTY EIGHT parties? If you can't remember, be sure to check our THE Pin It Party - The Best of the Best Pinterest board. We have a surprise for you! Go here to grab a special badge Ellie made just for you!
1. Please follow the host and co-hosts on Pinterest.
2. Send out a tweet about the party! Just click here:
3. "Like" THE Pin It Party on Facebook by clicking on the button below.
4. Grab the party button above and add it to your blog's sidebar or link up party list.
5. Post 1-3 links to your blog's most "pin-able" posts from the last few weeks. (Please, no links to other parties, giveaways or shops please. If you are an ETSY shop owner, come back this weekend and link up at the Weekend Blog Block Party!)
6. Mingle! Reach out to somebody new and pin their stuff. You never know when you will meet your blogging bestie!
7. Have a FABulous day and come back next week for more Pinterest fun.