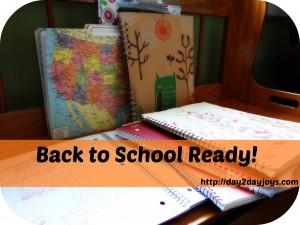 It is August 8th. But have you seen it? All the STUFF surrounding back to school? Lists, books, papers, pencils, crayons, glue, stickers, those stretchy book covers (no more paper bags?), calculators, new shoes, backpacks, pre-packaged school snacks, and big signs pointing you to the part of the store where all of this stuff is piled.
As a mother, I am terrified. I have been home from work since my second babe was born last April. That's 16 months of it being ok to *maybe* shower and taking 20 minutes 2 hours to get out of the house in the morning. I am worried that we aren't going to make it out the door dressed every morning by 6am...
Read the rest of this post over at Day2DayJoys where I am now... a contributing writer! I will be writing with the lovely ladies there once a month and I am so excited to be part of their blogging team :) There are lots of good natural living, happy mama posts there!!