Can you see inside my house?
If you could... you would see that my Christmas tree is still up.
Whatev, judgers, who says you have to ONLY celebrate Christ's birth in the month of December.
Maybe I feel like celebrating until Valentine's Day.
Maybe all year.
Maybe until my husband caves and puts all those annoying ornaments away.
While Christmas is still all around us... I have gotten my babe back into cloth.
It feels so good!
(this is an old picture but one of my favorite diaper pics!)
It looks so good!
Let me be honest. When my sister said she was cloth diapering... I thought CRAZYYYYY. You are going to touch poop? CRAZY. Then, as all sisters should, I supported her and defended her to all critics (while privately continuing to think she was CRAZY). I bought up all the diapers on her registry and displayed them in an adorable basket for her shower. I told everyone how great they were, even though secretly I though she was CRAZY.
Then.
It happened.
I started seeing cloth diapers everywhere I went.
FINE.
Not went.
Shopped.
Online.
There they were on Zulily, ecobabybuys, babyhalfoff, babysteals, AND they started creeping into my amazon account too!
So. I submitted.
Why shouldn't I? They were freaking adorable and my then 1.5 year old was leaking out of every diaper combo I bought at night (I say combo because we were using more than one).
So. Just as cloth diaper companies everywhere intended, I bought them and put them OVER his disposable diaper.
And just like that, no more leaks.
After that I experimented with different combinations of pocket diapers - and sure enough I could use cloth at night and there were NO LEAKS.
Well just like that my kid was potty trained and I had to wait.
It was a long year of waiting to buy cute cloth.
I waited right up until I found out the gender of baby E, and then I bought.
And bought.
And bought.
Who could blame me?! They were so freaking cute. And as of yet they had no poop in them.
So when the baby came I couldn't wait to get him into cloth!
I was sold. These things were cute and easy to clean.
Unlike others though... I am pretty sure I'm not saving any money using them... because I keep buying them :)
If I were to use these on another child - THEN - I MIGHT- be saving money.
But let's not rush all this too much. Neither of the other two sleep through the night, and I don't think I can function on any less sleep!
Anyhow, I wanted to share what I learned about cloth and some of my favorite things!
Diapers & Wipes
There are lots of kinds. I know because I have all of them.
Fitteds: are good for overnight, they need a water proof cover

Pockets: are good for during the day, they are water proof and can be stuffed with a variety of different kinds of inserts - they need to be unstuffed before washing

All in One: they are just like disposables except for the washing, they are used as is and thrown into the wash

All in Two: usually have snap in inserts that you can change using the inserts once and the cover more than once
Since I am using cloth diapers... it is just as easy to clean wipes - so I use cloth wipes too. I use some California Baby diaper spray. If it ever runs out I will make my own... but it seems to last forever. Not a great business plan - but works out nicely for me.
There is something called a diaper sprayer. It attaches to your toilet and you use it to spray off the diaper before washing it.
I didn't want any involvement in that.
I also don't want stains on my diapers.
I am a little OCD about it.
So I searched out liners.
They sell disposable ones that you can just flush... but they aren't always foolproof/leakthroughproof... so after finding out that NOTHING sticks to minky fabric, I bought a yard, cut it into strips, and use that.
ANYTHING falls right off it into the toilet, no plumbing, dunking, touching, required.
As you can see from the liners... you don't wash poop in your washing machine.
So just calm down.
When you are breastfeeding you can just wash the whole thing poop and all, no liner, it's not "real" poop. It doesn't stain. After your baby eats solids (even one bite at a wedding that you didn't know about) - it's time for liners and dumping. After that - it's pretty easy. I use a wetbag, dump everything from it into the machine, rinse them once with no soap, then do a wash with soap (we like Charlie's) and an extra rinse. That's it.
I usually hang covers and pockets to dry (in the sun if they have marks on them) and tumble dry inserts, liners and wipes. All in ones take FOREVER to dry - so you will probably have to line and tumble them unless you want to keep turning the drier back on.
Diaper Cream
We like CJ's Butter for diaper cream. If the rash demands something more than that we switch to disposables and use a "regular" diaper cream (we like Buttpaste).
I think that's it. Hope it helps!
Since it's still naptime... maybe I will do a little shopping...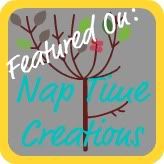 Hop on over to these blogs where - if they are lucky - I'll share this :)